The Skipton Cup is back (yet again)
The Skipton Cup is a series of 5km Handicap race series for club members held at Frenchfield, Penrith, in the late summer. We start with a scratch event and then move on to a series of hotly contested handicap age category races, all across four weeks. All abilities are in the running to win!
Age Group categories for the Skipton Cup series are –
Age Group 18-34 = Open
Age Group 35-39 = v35
Age Group 40-44 = v40
Age Group 45-49 = v45
Age Group 50-54 = v50
Age Group 55 -59 = v55
Age Group 60-64 = v60
Age Group 65-69 = v65
Age Group 70& over = v70+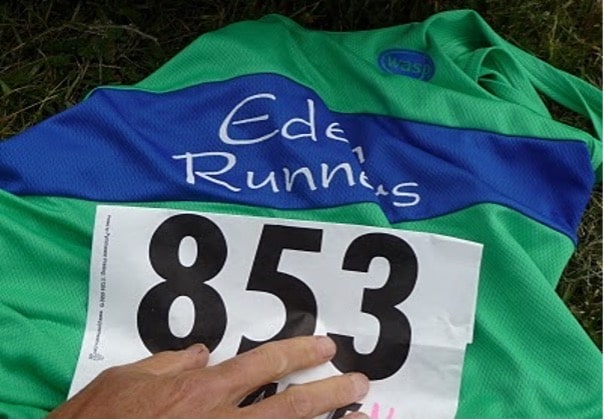 Race #1 – 5k mass-start
Date – Wed Sept 6th 2023, 6pm start
Further info – see below
Race # 2 – 1st 5k handicap
Date – Wed Sept 13th 2023, 6pm start
Further info – see below
Race # 3 – 2nd 5k handicap
Date – Wed Sept 20th 2023, 6pm start
Further info – see below
Race # 4 – 3rd 5k handicap
Date – Wed Sept 27th 2023, 6pm start
Further info – see below
The 2023 Skipton Cup will be held on the perimeter of the main field at Frenchfield – see 'Rules' below. 
🟢🔵The Skipton Cup – a 5k Competition 🏆🟢🔵
The Skipton Cup is back once more….!
➡️For those who don't know, the Skipton Cup is a series of 5km handicap races for club members, held at Frenchfield.
🗓The first event will be held on Wed Sept 6th 2023 at 6.00pm. It will be a mass start 5km, 3-lap clockwise (ie opposite direction to parkrun) race around the perimeter of the main field at Frenchfield, with trophies ( awarded on presentation night) for the first three men and women to finish.
Then, on the 3 subsequent Wednesdays, there will be a 5k handicap race series on the same course– details are given below. As in previous years there will be awards in the age categories for runners with the top 3 fastest times across any/all of the 4 events in each of the following age categories –  Open (ie 18-34),  v35, v40, v45, v50, v55, v60, v65 and v70+ for both men and women – so that even if you can't make all of the events, there will still be something to aim at. We will be publishing a leaderboard covering these age cats after each of the 4 races. Age applicable is as on the day of the initial Skipton Cup race – Sept 6th 2023.
IMPORTANT – You will need to wear a race number – so you'll need to register and collect your number beforehand – we aim to be at Frenchfield from around 5.15pm so please be as early as you can – we aim for a 6pm start. Please bring safety pins if you can – we have a limited supply. And that race number should be worn for each subsequent event you attend.
Note:
Age Categories will apply across all 4 events – your best time at any of them will be used to establish prizewinners.
If you are a prizewinner (ie first 3 male and female) in the initial Skipton Cup 5k mass start race, then you will not be eligible for series Age Category prizes.
Your initial starting time for Handicap Race #1 (Sept 13th) is based on your Skipton Cup 2023 (ie Sept 6th) time. If you miss that event, we'll work out your handicap start time using next-best estimates based on fastest 'recent' parkrun times, etc.
You need to be a member of Eden Runners to take part.
HANDICAP RACE SERIES (13th, 20th and 27th September, all 6pm start)
The runner with the longest 5k time will start first and the shortest-timed runner last, by a differential equal to the difference in their respective fastest times in the preceding races. The Handicap times will be adjusted after each Handicap Race as improvement is achieved. Please note your Handicap time cannot decrease! Points are awarded for finishing position i.e. first place 1 point, second place 2 points etc.
Handicap races #2 and #3 are then completed on subsequent weeks and points awarded in the same way; the overall winner of the handicap series will be the person (male or female) with the lowest total points over the three Handicap Races.
Prizes will be awarded to the three runners with the lowest number of total points.
If you miss one or more of the three Handicap Races, then points equivalent to the last placed finisher in the race plus one point will be added to your total points.
The whole point of this competition is to promote friendly competition by rewarding genuine improvement across the series….and if you win a prize in the process, well, great!  Participation is also at the core of the Skipton Cup race series so please try to attend as many as you can – they are great fun!
The events will be available to book on TeamApp – booking yourself on would be greatly appreciated, but is not essential. Runners are encouraged to wear club colours please
Apologies for the necessarily long post. If you've got this far and have questions, please go back to the start and re-read these notes, and then have a bit of a think. Then, and only then 😬, if you've STILL got questions, comment on here or send me a pm 🙂
 Get your running shoes on – it'll be great to see a good turnout – these events really are for ALL MEMBERS OF ALL ABILITIES. Your support is really appreciated
Good Luck! and remember …..anyone can win the Skipton Cup!
The first Skipton Cup handicap competition at Eden Runners took place in 1997 – just a year after the club formed.
Previous winners – 
1997 Alex Heron
1998 Dave Barclay
1999 Sarah Spencer
2000 Andrew Bell
2001 Sally Spence
2002 Karen Heaviside
2003 Paul Saager
2004 Alison Turnbull
2005 I McMillan
2010 Steve Patterson
2011 Craig Harding
2012 Steve Impey
2013 Sally Spence
2014 Mary Chapelhow
2015 Kathleen Taylor
2016 Andrew Richardson
2017 Alison Walker
2018 Andrew Richardson
2019 Tony Brooke
2021 Anna McCombie
2022 Roy Bottomley
2023 Lisa Askins